Cloisonne urn information
Cloisonne urn information
Cloisonne is a traditional Chinese craft dating back over 500 years. Also called the 'Blue of Jingtai', the blue dominant designs have become highly valued the world over. Cloisonne urns add a unique twist to a modern world and will be a beautiful resting place for your loved ones cremains. Their intricate patterns and delicate artistry will make them a focal point of remembrance.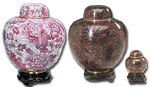 History and Craftsmanship
The art and tradition of cloisonne dates back over 500 years and originated in Beijing China. This well-known traditional enamelware has an elaborate and complex six step process consisting of the following steps: base-hammering, soldering, enamel-filling, enamel firing, polishing and gilding.
Base-hammering is actually the work of a coppersmith. Fine grade copper is hammered and stretched to a uniform thickness and weight. After the base-hammering is completed small strips of copper measuring 1/16 inches in diameter are soldered in a complex pattern onto the hammered copper. Boric acid, saltpeter, alkaline and other basic element ores are ground into a fine powder and then applied in small compartments separated by delicate filigrees. Cloisonne urns get their unique colors due to the nature of the different minerals. Mostly iron will turn gray, gold or iodine will turn red, uranium will turn yellow, chromium will turn green, zinc will turn white and bronze will turn blue.
Once the urn has been filled with the elements, it is placed into crucible. In between firings, re-filling is required as the elements shrink in the compartments during each firing. The urn is then polished repeatedly in order to even out the compartments and filigree. An emery is used first and then the urn is once again placed in the crucible. After another firing, a whet stone is used to further polish the cloisonne urn. A piece of hard carbon ensures a surface luster as the final polishing step.
The craft of cloisonne is completed by placing the urn in an electrically charged gold or silver fluid which keeps the cloisonne free from rust. A final polish and electroplating are the finishing steps to this ancient artistry.
Care
A dry cloth is the best method for keeping your cloisonne cremation urn clean. No cleaners should be utilized and any water should be completely wiped away.
View our Cloisonne Urns.