Glass urn information
Glass cremation urns are some of our most delicate yet most beautiful urns. The intricacies of the timeless art of blown glass and porcelain and enamel are breathtaking yet purposeful and simplistic. Glass cremation urns are becoming increasingly popular and Everlasting Memories provides a wide selection of glass cremation urns for you to choose from.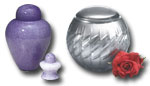 Definition and Craftsmanship
Glass is a basic composition of silica. The silica is derived primarily from sand but also from flint or quartz. While neither a solid or a liquid, glass exists in a state in which the molecules have enough cohesion to produce rigidity. This state is called vitreous.
Glass gets it many forms when heated to a high temperature. Glass is much easier to shape using a variety of techniques when it reaches a molten state. Cooled glass can actually be very delicately carved. Glass has a variety of uses in addition to being useful and decorative. It is also a major component of architectural and industrial structures.
Care
Glass should be cleaned with a soft cloth and, if not enameled, with a small amount of glass cleaner. For your porcelain and enamel cremation urns, a soft cloth is all that is needed. Any water should be removed and the cremation urns dried completely.
View our Glass Urns.