Metal urn information
Metal cremation urns are one of our most popular items with their simple lines and their classic designs. Everlasting Memories has an extensive collection of metal urns and, in particular, bronze urns. From the unadorned to the elaborate, individual, companion or keepsake; we will have just the bronze cremation urn you are looking for.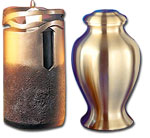 Definition and Craftsmanship
Most people believe that bronze is just another name for copper. Copper is in fact too soft to be used just on its own. Bronze is the result of melting together tin and copper. The combination of the two alloys means that you don't have the brittleness of solid tin yet the bronze is not soft like copper.
The bronze is thoroughly heated and then poured into a form. Sheet bronze is formed by pressing the metal together through large rollers until it reaches a desired thickness. An artist will hand sculpt a bronze cremation urn that is cast into a sculptured form.
Care
All metal cremation urns will do best indoors. Bronze urns will not rust but will eventually become discolored over time if they are exposed outdoors. A soft dry cloth and periodic diligence is the best method to keep your metal and bronze cremation urns looking their best.
View our Metal Urns.