Nobility Urn Necklace Review
Nobility Urn Necklace Review
The Nobility Urn Necklace is a jewelry urn necklace that our company has added for the budget conscious shopper that provides not just a way to memorialize a loved one but is also a high quality accessory that can be worn daily.
Product Description
The Nobility Urn Necklace is a silver plated over brass cylinder and the top part of the keepsake is detailed to give contrast. Simple to fill, the bail of the Nobility unscrews to expose a generous interior compartment to hold a remembrance of personal choosing. Included with the keepsake pendant is a matching 20" silver plated chain, a filling and sealing kit complete with funnel, filling sticks and adhesive – all packaged in a jeweler's gift box for your convenience. The Nobility retails for $29.99.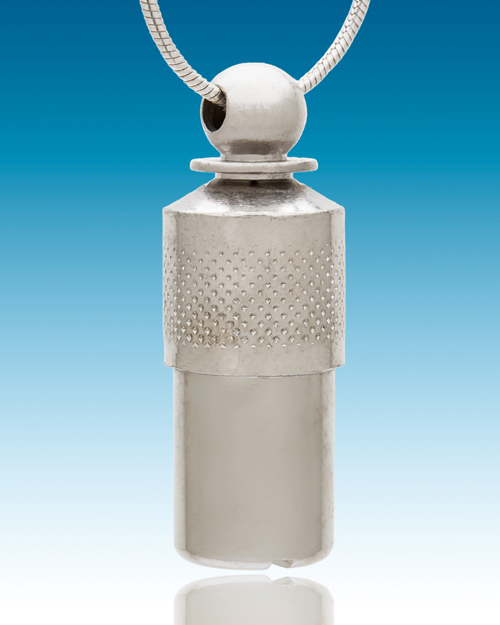 Highlights
Unisex design means ideal for men and women alike
Includes a matching chain and a filling and sealing kit – no need to run out and buy additional tools to fill, seal and wear.
Engraveable – will hold up to two lines of personalized text and we offer two different font selections
Why our customers love it
The interior holds a pinch of cremated ashes or other tribute and allows family members and friends to take a small piece of those they've lost with them wherever they go. With a larger interior cavity, this is ideal for those that want 'more' of their loved one with them.
The sterling silver finish is durable and silver goes with everything. To the gym, the office, a night out on the town – take the Nobility with you!
At $29.99, the keepsake is a great value and for families that are buying multiple keepsakes, this is the perfect option. Combine the affordable price with buying five or more keepsakes and you can save even more.
Holding up to two lines of engraved text, the options are endless. Names, dates, a small saying, customized to really capture the life of your loved one.
Fast shipping – typically ships within 24 hours of processing your order and for delivery within in the continental United States, you'll have your keepsake in three to five business days in most cases.
Keeps your secret – the design won't give away what the interior holds. This is especially important to our customers that feel uneasy about wearing an urn necklace. The design is discreet yet personal and individually you can choose to share what your necklace holds or not.
No worries, hassle free returns – your satisfaction is guaranteed!
Current Customer Reviews
Click Here for more product details and to Purchase the Nobility.