Wood urn information
There is nothing like the beauty of natural hardwood. Everlasting Memories stands behind their quality and have a large selection of beautiful hardwood urns. Wood withstands the test of time and becomes more beautiful and intricate as it ages. Our hardwood urns come in cherry, mahogany, maple, walnut and other varieties of hardwood. Our hardwood urns also come in a variety of finishes so you can tailor your urn to suit your needs. We also offer some of our hardwood urns that can be specified to your dimensions and our customer service representatives can answer any questions you may have at 1-877-723-4242 or via email at support@evrmemories.com .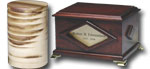 Craftsmanship
Everlasting Memories hardwood cremation urns are of the highest quality. All of our urns are meticulously made by hand, using time honored construction methods. As quality is our number one concern, all of our urns are handcrafted by meticulous artisans. After the hardwood is selected, it is carefully cut, and hand assembled into one of our beautiful creations. The hardwood cremation urn is then sealed and given a final inspection to rule out any imperfections in the stain or sealant. Because hardwood varies, no two urns are alike. An engraved plate or a laser engraving can be added to many of our hardwood cremation urns.
Care Instructions
Your hardwood cremation urn should be kept in a controlled temperature environment. What this means is you do not want your urn in a high temperature or high moisture room of your house such as in all day direct light, a bathroom or outdoors. High temperatures will dry out the wood and intense moisture will cause the wood to warp. It is suggested to not use water or soap to clean your hardwood cremation urn but rather a soft cloth and furniture polish. A little goes a long way with the polish and a dime size amount will be more than adequate to keep your urn looking beautiful.
View our Wood Urns.