How To Express Yourself With Cremation Jewelry
How To Express Yourself With Cremation Jewelry
What if you could keep your loved ones close to your heart in a real and tangible way, even after they'd died? A unique and personal way to honor their life and never be without a part of them yet so secretive no one needs to know unless you choose to share. How? The answer is simple: cremation jewelry.
Cremation Is More Popular Now and So Is Cremation Jewelry
Cremation jewelry allows you to keep ashes, hair or dried ceremonial flowers close to you after your loved one has died and been cremated or buried. As cremation begins to become an increasingly popular burial alternative, this has opened up the door for new and innovative ways to remember the deceased. The number of Americans who are opting for cremation has tripled since the 1980's and over 33% of those that have passed opt or the family opts for cremation over burial.
To honor loved ones who have been cremated many families will bury the cremation urn in family plots. They may even put the urns on their mantelpiece or on a pedestal as a focal point in the home. Some choose to scatter the cremated remains. Whichever option you choose for your cremated loved one's ashes, cremation jewelry is a great addition. You can reserve a portion of the ashes for cremation jewelry.
When electing to scatter ashes in a particular place such as water, a meadow or field or on a piece of land that holds particular meaning, you can scatter most of the ashes there but keep some of them for yourself and your family members so that they can store the ashes in cremation jewelry that they wear on them at all times. You won't have to share the contents of the cremation jewelry unless you want to and the jewelry will looks like an everyday jewelry accessory. No one will even know it is cremation jewelry unless you tell them.
What Is Cremation Jewelry?
Cremation jewelry is a concept that has been adopted around the world as a beautiful and unique way to remember a loved one that has passed away. Cremation jewelry is created to hold a tiny remembrance of your loved one inside a high quality expertly crafted keepsake such as a heart, cross or other type of jewelry pendant.
When a body is cremated, only about 3% of the body mass remains. This tiny percentage is round into a very fine ash, and these are called cremated remains or, the shortened version, cremains. Approximately a pinch of the cremains can be added to the interior of the cremation jewelry and sealed inside to create a personal tribute unique to your loved one.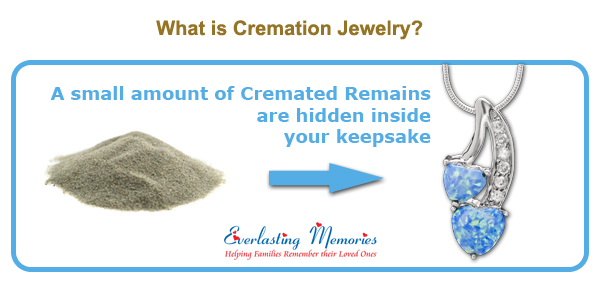 Why Choose Cremation Jewelry?
Cremation jewelry gives you security, comfort and discretion. You have thee security of knowing that your loved one is safe and close to your heart, especially if you are wearing a cremation necklace, bracelet, ring or keychain. Not only do you have a daily physical reminder but you also have the comfort of knowing that your loved one is near you at all times. Cremation jewelry allows for discretion since no one will know that the cremated remains are stored in the item.
What Is The Difference Between Cremation Jewelry and Regular Jewelry?
Cremation jewelry looks like any other kind of jewelry that men and women wear on a daily basis. The difference is what is stored inside of the cremation jewelry. The jewelry is presented as a pendant, ring, bracelet or keychain. Keepsake jewelry items are handcrafted to hold a very tiny amount of cremated cremains or ashes or any other personal tribute that will fit inside the small interior.
The compartment or cavity is either for a single tribute or a tribute to a companion. A companion keepsake pendant can hold two different remembrances for one person or it can hold remembrances for two different people, like both of your parents, a parent and a sibling or even your grandparents.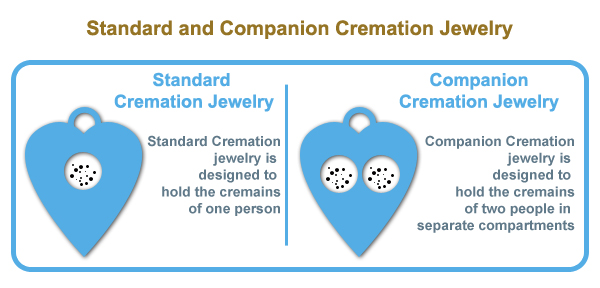 What Are The Various Kinds of Cremation Jewelry?
Remembrance jewelry can be purchased in a number of different sizes, shapes, themes and metals. From pendants to rings to hearts, animals and more, you can fine tune exactly how you want to remember your loved one. For those that don't wear jewelry there are other alternatives such as keychains and rearview mirror pendants that hang from the mirror in your vehicle.
Most cremation jewelry vendors will even customize and personalize the jewelry to your specifications. That gives you another way to memorialize your loved one. You can have their ashes on you at all times, and you can add photos, engravings or initials onto the cremation jewelry to further the personal nature of the keepsake.
Cremation jewelry is a brand new way to take an intimate and personal part of your loved and memorialize it forever in a beautiful pendant or locket. Keepsake pendants that are customizable can be engraved and selected with your specifications, making a masterpiece that you can use to honor your loved one. Adornments such as crystals and semi-precious gemstones are also available to further compliment and customize your keepsake urn jewelry.
Different Types of Cremation Jewelry Include:
Cremation rings
Custom-made or unique cremation jewelry
Cross cremation jewelry
Heart cremation jewelry
Cylinder cremation jewelry
Cremation jewelry chains & cords
Cremation urn bracelets
Cremation necklace pendants
Cremation brooches
Different Materials Used In Making Cremation Jewelry Include:
Silver
Glass
Stainless Steel
Gold
Wood
White and Yellow Gold
Rose Gold
Brass
Copper
There are all kinds of cremation jewelry items that you can purchase depending on how you want to wear the jewelry. There are pendants, rings, bracelets, photo jewelry, pet cremation jewelry and jewelry accessories like keychains, chains and displays and uniquely or custom-made pendants of all kinds and sizes.
What Kinds of Cremation Pendants Are Available?
There are all sorts of pendants for peoples' ashes to be displayed in. Necklace pendants come in an almost infinite amount of forms but some of the most common ones are cylinders and rounds, nature items like animals and flowers, crosses and hearts. These traditional symbols of nature, love and life let loved ones choose what best symbolizes their loved one and the relationship that was shared.
There is also the option of choosing custom-made jewelry that you design yourself or you can go out of your way to find unique and one of a kind shapes for the pendants. It's really all about what kind of jewelry you like and what you will wear all the time. This opens up to endless options that provide a discreet resting place for your tribute.
You can also buy photo-engraved pendants so you'll have a picture of your loved on one the front of the pendant or a favorite photo of you and your loved one together. These pendants are available with and without an internal urn.
Are the Options Limitless with Cremation Jewelry?
Most all kinds of cremation jewelry pieces match up with different kinds of ordinary jewelry pieces. That means that if you see a particular kind of jewelry item you like in a high-end jewelry retailer, you can probably get the same kind of jewelry piece with cremation keepsake potential. Gold, white gold, even diamonds that are made from the carbon remains of the deceased can be used to create a personal memorial holder in their honor.
Find out what our customers have to say and read our customer reviews.