Choosing the Correct Size Urn
Choosing the Correct Size Urn
How do you choose the correct size urn to hold a loved one's cremains? You'll have a good idea once you have the ashes in some kind of transitory storage container. You'll have a container filled with ashes, but you'll probably want to transfer them to a more permanent container so that you can store them in a beautiful place in your home, like on the mantle or a place where the family gathers such as the family room or perhaps a home office or den.
A lot of people place their urn in an area of the home such as a family room where the loved one continues to be a part of the family unit. This not only integrates the loved one into the daily routine of the family but serves as a warm and loving reminder of the loved one when family members gather for daily routine such as watching tv or family gatherings and special occasions or celebrations.
How do You Make the Decision About the Right Size Container for the Loved One's Cremains?
The volume of cremains an urn will hold is usually measured in cubic inches. The industry standard, or the common quote, is that one cubic inch equals one pounds of body weight. So, if the deceased person weight 160 pounds, then an urn would need to hold 160 inches to be adequate.
There are other things to consider as well. You need to consider the bones of the deceased person. The cremated remains will hold a lot of bone fragments, and it is vital to include that in your decision. Think about the body frame of your loved one. Smaller framed individuals will follow the industry standard of one pound of body weight equals one pound of cubic ashes. However, larger framed individuals may encompass a bigger cubic inch volume. for instance if the deceased has a larger frame, factor anywhere from 15-40 additional cubic inches of volume when purchasing the urn.
In general, urn accommodations are based off of the average individual with a medium sized frame. Taking into account the body frame of the deceased will help you make a more informed decision as to the volume of ash the urn needs to accommodate.
What About Most Adult Urns?
Most adult urns will hold about 200 cubic inches worth of cremated remains volume. If a deceased person weighs more than 200 pounds, companion urns can be considered. Companion urns hold upwards to 400 cubic inches of cremains, leaving plenty of room for those individuals weighing more than 200 pounds. Additionally, you may consider getting one 200 cubic inch urn, and then getting keepsake urns that can be shared with family members and will hold anywhere from 1 to three cubic inches of cremains. Keepsake urns are great for larger families or families that are spread out over the world. It gives each family member the opportunity to have a personal reminder of the deceased and keepsake urns are easily integrated into a home's decor.
How do You Know What Size Urn to Go Out and Purchase?
The funeral home or mortuary that is handling the cremation can direct you to companies, sales, and resources to help you select the right size urn. They can give you advice on not just the options that are available but where you can find the right urn to fit your budget. Funeral directors can assist with not only choosing the right sized urn but can help you taylor your selection based off of the needs of the family and what is most economical given financial restraints. Don't be afraid to price compare. Often times when you find an urn that you love offered by a mortuary or funeral home, you can search for the same urn online and find an online retailer that offers the exact merchandise for a much lower price. Most online retailers do not have the added overhead expenses and customers can typically get further reductions in price when ordering multiple items.
Cremated remains can vary in volume because of different cremation processes, temperature differences, and the bones of the deceased person. A good rule of thumb is to go with the CANA recommendations of a standard individual urn holding 200 cubic inches.
What Size Urns Should You Get?
There are many factors that determine the right sized urn. One of the first things to decide is where the urn is going to be displayed. Urns range from a standard and simple wooden box to creative and artistic styles that accent family rooms and home offices, without looking like a cremation urn. If the deceased had a particular passion or hobby, urns can be selected that personify that part of the deceased and make for a personal way to honor their life.
Furthermore, the display should fit in with the rest of the interior décor of your home. Choose an urn that fits in with your own personal decorating style. The wide assortment of urns available allows you to not only choose an urn that captures the personality of your loved one but also captures your sense of style and personal taste.
What Kind of Urns Should You Get?
Keepsake urns
Biodegradable urns
Companion urns
Infant urns
Veteran urns
Picture urns
Pet urns
Religious urns
Theme urns
Art urns
Choosing a cremation urn factors in many details. First, the size of the urn is of great importance and the urn should be selected based off of the weight and frame of the deceased. Decide where the urn will be displayed and choose a style that not only captures their personality and passion but also is representative of your home and individual and family decor.
How Should You Be Better Safe Than Sorry?
It is better to select an urn that is too big rather than too small. The ashes should fit completely within the urn and allow for the urn to be closed securely. Ask the retailer about their return policy and be aware of your rights as a consumer before placing the ashes into the container. Keep the ashes in a temporary container that will fit into the urn such as a bag or malleable container so that you can judge if the ashes will fit or not.
If you are unsure of the size of the urn, think big. If your loved one weighed in significant excess of 200 pounds it is best to go with an oversized urn container such as a companion urn. Also decide if you will be splitting the ashes amongst several urns. For example, if you are planning on separating the ashes between an individual urn as well as several keepsake urns, an industry standard urn should be more than enough. Do not hesitate to call the vendor or manufacturer with your questions. They want to help and can give you the best advice on making an informed decision.
Choose an urn that speaks to the heart or speaks to the family when making a family decision. Especially in instances when the urn is going to be a focal point in the home or integrated into a space where the family gathers, it is important that the selected urn brings comfort and helps to ease the grief of each family member.
Additional ways to memorialize a loved one.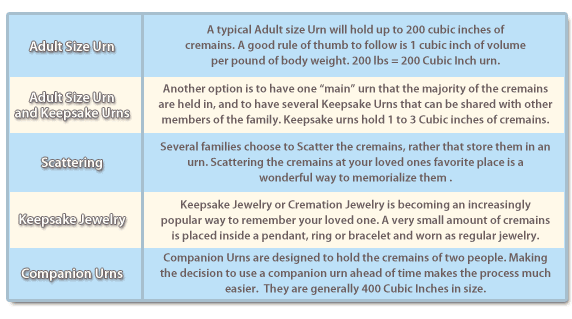 Keep in mind there is no right or wrong way to memorialize your loved one. The decision is a personal one, and it should come down to what makes you comfortable, and how your think your loved one would feel about it.
Find us on Facebook and 'LIKE' our page to receive a coupon for 5% off your next order.