Companion Urns for Two People
Companion Urns for Two People
Offering urns for parents, husband and wife, mother and father and more
Everlasting Memories carries a wide range of unique and beautiful cremation urns that are used to honor the loved one that has passed as well as create a safe and warm resting place for their ashes. Often times when the loved one is a spouse or partner and the other half of the couple is unprepared for the loss of their counterpart, a companion cremation urn is a good choice of resting place for your loved one. Companion urns come in a variety of materials and can often times be customized to reflect the lives of both individuals that are being memorialized. Companion urns for cremated ashes serve many valuable purposes and are a wonderful way to cherish and pay tribute to the lives of parents, grandparents or even godparents that you have loved and lost.
A companion urn is a crematory urn that will hold the cremated remains of more than one individual. These exceptional urns are available in several different mediums and you can choose from a variety of customizations to make them your own. When choosing a companion cremation urn for ashes it is important to check the amount of ashes that your selected urn will hold in addition to keeping in mind the decor of the room where you will be housing your crematory urn. All of these factors combined will help you create a final resting place for a loved one and yourself that has passed away or even to honor parents or other couples that are no longer with you.
---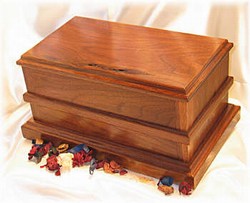 Our line of companion cremation urns varies depending on the material that speaks to you the most. Several of our customers prefer the warmth of hardwood and given the versatility of hardwood they are an obvious choice for many. Our hardwood companion cremation urns for couples include our basic yet stunning companion urn that can be crafted of several different hardwoods. This unique and lovely cremation urn is lined to give your loved ones a comfortable resting place and we can make your companion urn to order under certain circumstances. Our commitment to providing our customers with a companion urn that suits their needs is one of several examples of how our service goes beyond the site.
---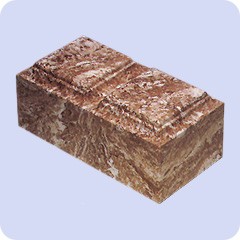 You can also choose from a wide range of alternative materials for your companion crematory urn. We have several beautiful and stunning cultured marble crematory companion urns that will hold the cremated ashes of more than one individual and these lovely urns can be selected in a variety of vibrant colors. Our cultured marble companion urns are also suitable for burial so our customers have the option of displaying their marble companion urn in their home or your loved ones can be laid to rest in a family plot or cemetery. At Everlasting Memories, we understand the gravity of your choices and we truly want you to be happy and at peace with your decision regarding your companion crematory urn.
---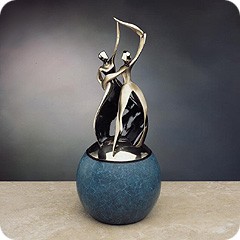 Our sculpture urns for companions are breathtaking and we have a very select number of these exciting cremation urns for two people's ashes. Each of our sculpture companion cremation urns are individually hand crafted and include details and finishes that will take your breath away. These urns make a lovely focal point in your home and can be mounted on a pedestal or perhaps placed in an office bookshelf or in a formal family room. Most of our companion sculpture urns are bottom loading and Everlasting Memories sends all you will need to assist you with filling your cremation urn for more than one person's cremated ashes.
Customizing your companion urn for ashes is an important part of commemorating the lives of the loved ones that have passed away. You have a variety of different options when it comes to customizing your companion urn and one of those options is to have the surface of the urn itself engraved.. This option is not available on all of our companion urns but it does make a lovely way to honor the lives and love of those that have died. Several of our companion urns for ashes will hold one or two brass or silver plates that can be engraved in a variety of font selections. You can choose to have your loved ones' names, dates of birth or death or even a small saying engraved on these plates. The plates have an adhesive on the back that enables them to securely fasten to the surface of the crematory urn.
Companion urns for couples or partners are a wonderful and expressive way to display the devotion between two people that truly cherished each other. Our line of companion wood urns and marble urns allow those that were together for years while alive to remain together once they have passed. This often times brings a measure of comfort and peace to not only the partner that is still living but to the lives of their family members once both are deceased. Companion cremation urns for burial give family members one place to visit and remember the times they shared with their parents or grandparents or their dear friends and to do so knowing that they are together even in death. Our companion cremation urns are an affordable option for those family members that are looking for an affordable yet loving way to honor the lives of those no longer with them and to find some solace with their passing.
Everlasting Memories has a wide range of beautiful and stunning companion crematory urns that will honor those no longer with you. These exceptional crematory urns for companions will hold the cremated remains of more than one individual and we do carry a select number of companion urns that can be hand crafted to your exact specifications. Our wide medley of distinct and extraordinary cremation urns for couples allow you to create a warm and loving resting place for your loved ones that have passed as well as keep your loved ones together in death as they were in life.